About JCR
Message from the President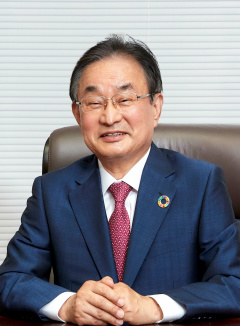 Since its inception in April 1985 JCR has undergone such a great many difficult times, which includes the bust of real estate bubbles in Japan, Asian financial crisis, Lehman Shock, European sovereign debt crisis, and East Japan Tsunamis, and at each and every time it witnessed how seriously those events affected the financial markets. It is our honor that at all times JCR has managed to sustain its independence and fairness in the rating actions, and made its best efforts to raise the quality of credit ratings and thereby ascertain trust in the market.
As financial globalization has made progress, JCR, as most remarkable credit rating agency of Japan, also keeps initiatives to satisfy its client issuers and the investors in their growing and new kind of demands toward internationalization. JCR is officially recognized not only in Japan, but also in the United States, Europe, United Kingdom, Turkey, Hong Kong, Indonesia and Thailand, and JCR's ratings can be utilized in the major overseas markets.
Furthermore, amid rapid global expansion of efforts to overcome environmental and social issues and realize a sustainable society, JCR has been providing accurate external evaluations of the evolving "sustainable finance" and has been highly evaluated by the market.
It remains my full intention to honor the issuers and investors' trust and make JCR be of ever greater contributor to not only Japan's but also global economic growth and development as a provider of its financial and economic infrastructure.
Overview
JCR is a leading credit rating agency in Japan, and an expert of credit risk analysis.
JCR's rating coverage exceeds 60% of approximately 1,100 publicly rated issuers in Japan. Among others, JCR has around 70% of rating coverage ratio for the financial industry. With the solid trust in the market, vast majority of issuers in Japanese corporate bond market solicit JCR's rating in their fundraising.
In addition, JCR has a track record of assign credit ratings for more than 200 foreign issuers. JCR is the only Japanese rating agency that is also officially registered in the US and certified in the EU and United Kingdom. As the financial market becomes more globalized, demand for credit ratings with international recognition may be growing so as to provide an important clue to assess credit risks. JCR aims to address such needs in the international financial markets.
Furthermore, JCR widely provides accurate evaluations on sustainable finance, and is an evaluation organization that contributes the most to "overcoming environmental and social issues and realizing a sustainable society," one of the most important global issues.